went to sentosa yesterday with my ex-pri 6 classmates. as you might have guess, the skies decided to schedule a downpour today. got really soaked while battling the raging wind and piercing rain, sharing one puny umbrella with cherie on the top floor of an open-air double decker bus. yeah i know, pretty stupid huh? but it was really fun getting drenched.. i think that i'll do that again some time.. hahahh.
cherie and me.
[with kao jun (guy standing), shi ying (girl standing with him), hui ying, xiang ying and chieh hwe]
- i know i know, a lot of chinese names. got pretty used to it.
the whole lot of us went to Siloso beach. played captain's ball on the soggy sand. running up and down the sandy field was hard work considering that the size of our territory was literally the size of an average football field. my team was really short-handed with most of the fast athletic types on the other team. unfair i know. but at least we managed to score in some way or other.
rested for awhile after that. soaked my tired feet in sea water. it really helped a lot. sort of a messaging effect on my feet. learnt to play Bridge afterwards with loads of help from brandon, joel, cherie and cindy. finally! a card game that i can boast of knowing other than solitaire! heard Gurmit Singh rehearsing his part for the Nation's Countdown party supposed to be held today there while i played MRt, another really fun card game, with jing xiang and xueqin in additon to the 5 of us.. blur jing xiang kept calling out a whole lot of mrt stations each time it was his turn, not knowing which station was the right one. eventually he did but most of the time, it was too late. hahhahh.
got home at 9pm armed with goodies from MacD. really thankful that cherie was there with me, if not, the journey would probably seem longer than it really was. too bad we didn't get to go kayaking though. was looking forward to it.
i really hope that the gathering isn't the last one that we're going to have. with only 17 people turning up, that hardly seem like a gathering. it's sad to think about it but if it really is the very last reunion that we're going to have for a very long time, i'll be looking forward to the next one. '_';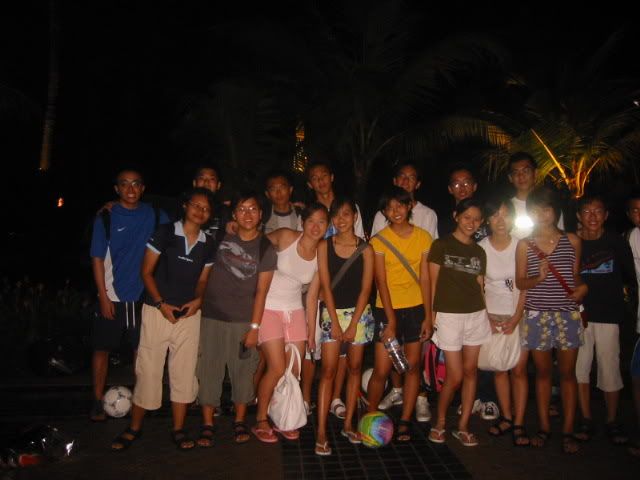 back row from left: zhao han, wei zhi, samuel, jeremin, james, brandon, kao jun
front row from left: me, cherie, xue qin, cindy, chieh hwe, shiying, hui ying, xiang ying, joel, jing xiang (half-hidden... terrible phographer)